BACK
Building a Strategic People Analytics Function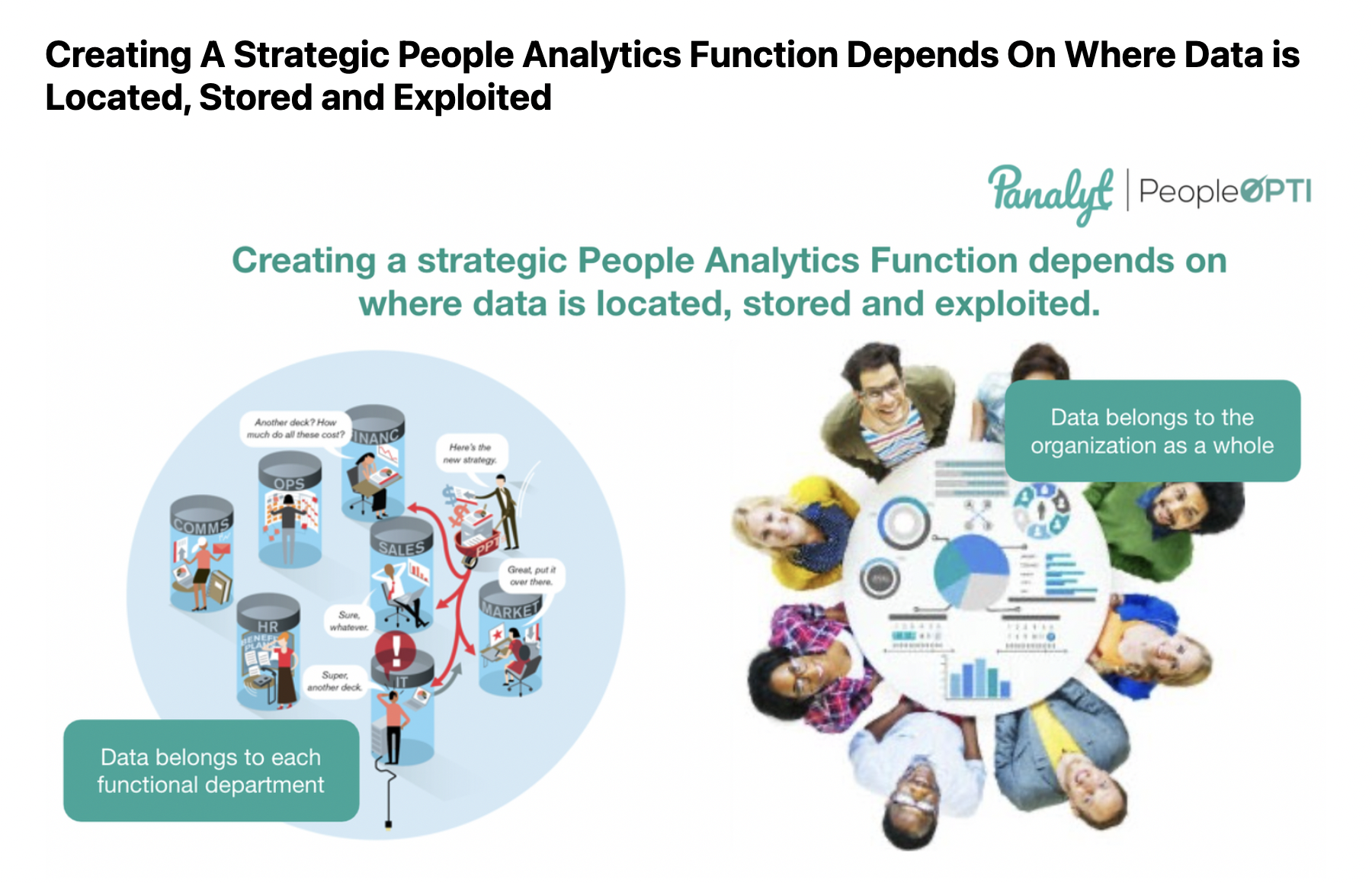 This article is a recap of the joint webinar by Panalyt and PeopleOPTI, "People Analytics: How To Build a Strategic People Analytics Function" in which Panalyt CEO Daniel West and PeopleOPTI CEO Federico Barcos von der Heide discussed how you can maximize the effectiveness of your People Analytics team by combining an internal consulting-led PUSH approach to deliver insights for strategic projects, along with a technology-led PULL approach to deliver more commonly requested insights to CXOs, HR and Business Managers.
---
Building a Strategic People Analytics Function Recording
All Panalyt webinar recordings and slide decks are available for free at the Panalyt People Analytics Learning Hub
---
An Organization is a System For Moving Information From Place to Place
"WHAT IS AN ORGANIZATION?"
85% of the time the answer would be "An organization is a group of people brought together to achieve a common goal"
What do you have in mind when you thought about the word "Goal"? What is the percentage that actually is in touch with what was stated in the 'goal'? Turns out that only 15% on average of employees are directly interacting with the thing you had in mind as the goals of the organization.
If that's the case, you are in risk of potentially alienating the workforce. The truth is that employees go to work for a wide variety of reasons. The behaviors of the employees should be consistent with the strategic goals of the organization. Managers must accept the diversity of why people go to work and understand motivations and reasons to align systems, incentives to create consistent behaviors aligned to the strategic goals.
Why this definition is important:
It makes everyone in the organization relevant
Everyone interacts with information
It enable leaders to be architects of organizational design
Organizational design to efficiently and effectively move the right information, at the right people at the right time
---
Creating A Strategic People Analytics Function Depends On Where Data is Located, Stored and Exploited
Traditionally HR data has been stored and analyzed in silos, looking at different aspects of the employee lifecycle in isolation, which has prevented HR teams from using data and analytics as a lever to have a holistic understanding of the organization's people challenges, create more impactful people strategies and initiatives, and create a feedback loop based on measuring the success of these strategies to address business issues.
In addition, as HR very often does not have access to business, productivity, and finance data, reports are seen as incomplete or ineffective by business leaders.
We are increasingly noticing a trend among more progressive companies that are democratizing access to people data to allow managers to make holistic people decisions to drive improved employee and business outcomes.
As gatekeepers for enabling a culture of data-driven people decisions in an organization, People Analytics teams need to focus on addressing both cultural and technological issues, empowering HR and Line managers with the products/tools to derive actionable insights from their people data in a timely, self-service manner and also address concerns around data confidentiality and security – for eg. allowing certain users to only see top-line numbers but not data at a more granular level.
---
Building and Scaling a Data-Driven HR Culture
The end goal of your People Analytics transformation journey is to go from a one-off project-based approach to People Analytics, to embedding a data-driven approach at the heart of your people decisions by stakeholders across the business.
To do so, there are both technological and cultural barriers that must be overcome.
From a cultural aspect, People Analytics teams need to give HR and business leaders the means to make strategic People decisions – which means we need to think about what kind of information do we need to provide to the business to build a data-driven HR culture. The use cases and the business impact must be clearly articulated to get managers to seriously take people data into consideration while making people decisions.

The level of adoption of People Analytics across the organization depends on the number of use cases created and the type of business impact generated. Your People Analytics tech stack has a direct impact on the number of use cases you can produce with your People Analytics team and the business impact created.

When referring to the scalability of your People Analytics program, the number of end-users in your company using data to make decisions on their people, and the frequency at which they access the products provided by the People Analytics teams, are strong measures to assess if your company is adopting an analytics culture around its people decisions.
---
Scaling value by combining a Consulting + Technology approach – Data Flow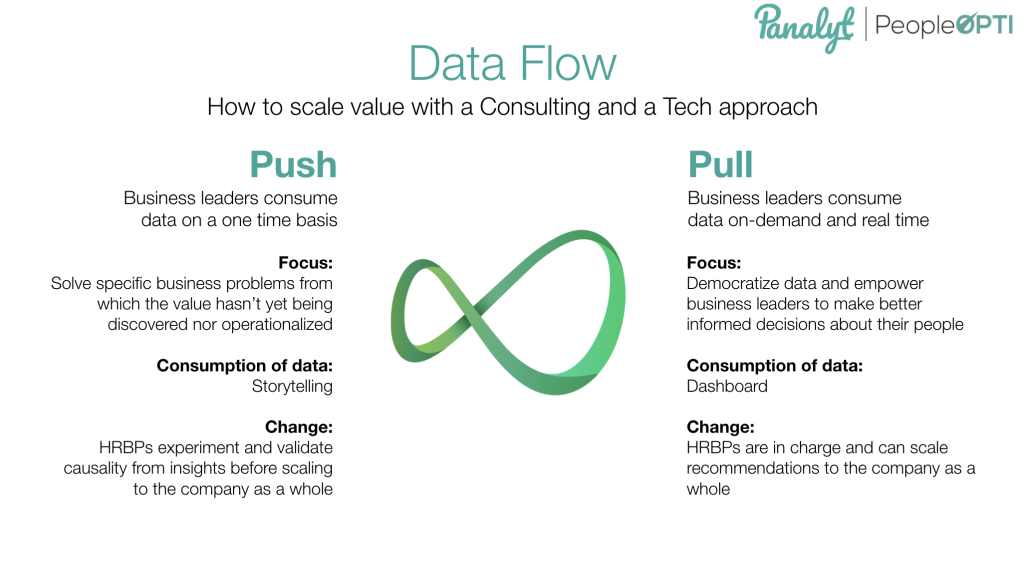 A Push approach to People Analytics refers to the People Analytics team proactively delivering insights to the rest of the business.

A Pull approach to People Analytics is one where the People Analytics team enables stakeholders across the company to consume all the insights which the People Analytics team is producing automatically in a more self-service manner.

A push and pull strategy goes hand in hand. While both strategies seem to be similar, there is a radical difference at a cultural level.

The push strategy requires maximum control over the usage and exploitation of data from the people analytics team. The people analytics teams test hypothesis in cycles over time.

On the other hand, the pull strategy implies full autonomy from business leaders to make decisions. Insights are out in the open to be used and maximized value. To do so, the PA team has trained and developed analytical capabilities in the rest of the organization to correctly use the data visualized without a high level of control over it. Data is there to be used and exploited. At this stage is when a company truly starts its data-driven transformation and the adoption is generalized across the company.

Let's see some of the main differences between the two:


In a push strategy insights perish/ get out-dated very quickly, which puts pressure to transform insights into action, test hypotheses, and use presentations to create storytelling that should eventually be transformed into a dashboard. The C-level is informed of the different insights and is eager to understand how to improve business performance. The People Analytics team needs time to experiment on the critical insights in order to find causality and scale the action plan to the whole organization.

On the other hand, in the Pull strategy insights are generated automatically and visualized in a tech platform so that insights can be consumed 24/7 without involving the people analytics team. The organization is open to sharing data because it understands the value of making better-informed decisions about their employees and the business.

The risk of relying solely on the Push strategy is that the rest of the company perceives the People Analytics team as a project-based team, which is not good for producing transformation from a cultural perspective. While the centralized team pushes insights to a group of managers, the rest of the company continues to make people decisions in the traditional way.

A standalone pull strategy also won't produce data-driven transformation.

A Data-Driven HR transformation happens when both the consulting and technological approaches are accepted by the organization. Structuring a People Analytics team in a way that can combine and complement both these approaches is key for not only HR but the entire organization to manage the process of making evidence-based people decisions better.
---
Scaling value by combining a Consulting + Technology approach – Adoption Journey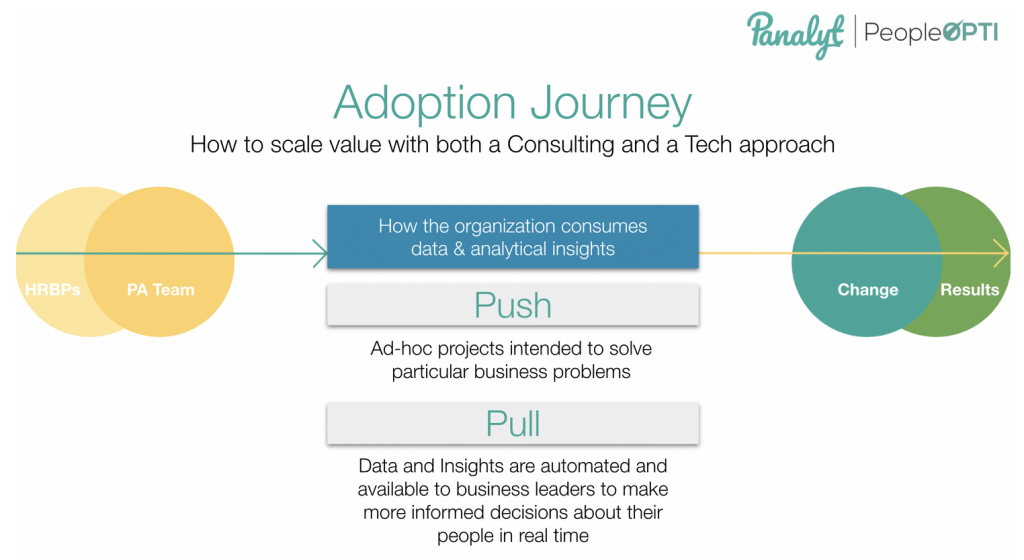 In a push strategy, insights are delivered to business leaders. In a pull strategy, insights are automated and available to business leaders in real-time.

We need to constantly remind ourselves that people analytics is a diagnosis work. If we want to produce change we need to transform insights into actions that lead to different outcomes.The more actions taken based on data, the bigger is the impact of People Analytics on the organization.

People Analytics teams have 3 main courses of action, the consulting approach, the tech approach where the generation of insights is automated for a self-service strategy, and the transformation of insights into actions taken by HRBPs.

People Analytics teams have to avoid at all costs conducting projects or initiatives just to satisfy the intellect and curiosity of business leaders.

Your People Analytics process should ideally have People analysts or HRBPs listening to business leaders and trying to understand what people problems are aligned with a business strategy that can be solved from an analytics perspective, and operationalize the delivery of the solution to that challenge.

People Analytics teams need to control how HRBP can generate value with insights that are provided. Of course, People Analytics teams can fail or can not find anything interesting in the data… but always keeping in mind that if the organization doesn't change or produces different results the PA initiative will be irrelevant in time.

Eventually, every single Push strategy can be transformed to a pull strategy and should be in the production pipeline for creating products from push strategy, which can enable a change management strategy to create business impact for the company.

A classic problem with the Push strategy is having to re-run the piece of analysis every time. While a People Analytics team can be highly effective at the beginning of the process, the lack of a scalable and automated solution to creating reports leads to the People Analytics team having to keep on repeating the same analysis again and again.

The work done soon gets grandfathered as people don't have access to the same reports with live and fresh data, and can't test if interventions were effective.

While a stand-alone Push strategy is effective for understanding the dimensions of a challenge at one point in time, it is not a scalable approach over time.

A Push strategy doesn't work unless you keep on adding more and more resources to keep up with the analytical products you're repeatedly creating, unless you keep cumulatively integrating each use case into a Pull tool to productize the insights in a self-service manner to managers, allowing the People Analytics team can move on to next challenge/ insight.

It is important for People Analytics teams to simultaneously develop their Push and Pull strategies to drive the adoption of People Analytics across the organization
---
The Push Strategy In People Analytics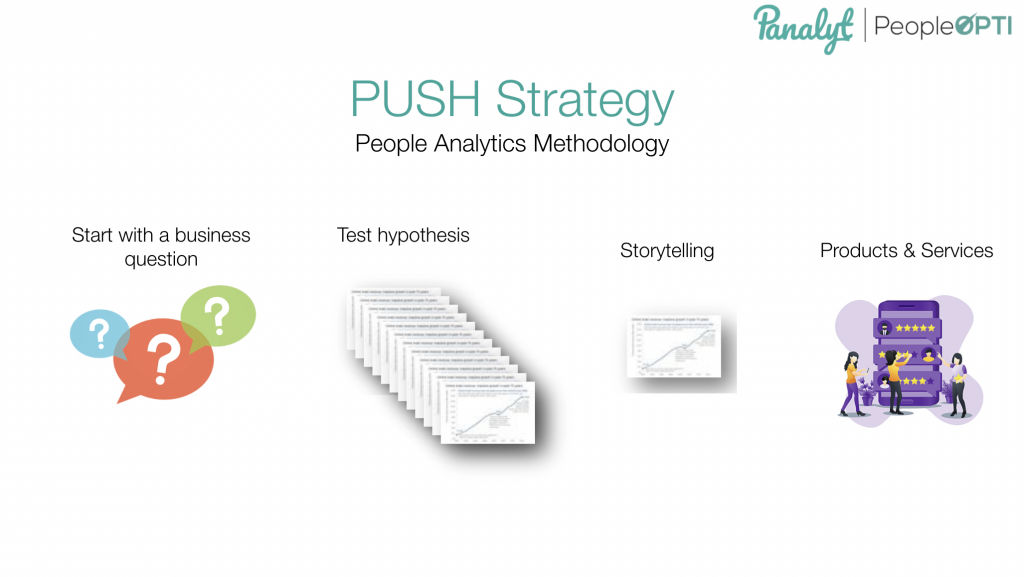 The basic process involved in a Push People Analytics strategy is – Start with the business question, test hypotheses related to business question, build storytelling based on critical hypotheses that have the strongest relationship to the business question, create or transform products, processes, and services that you provide within the company.

It is critical that the People Analytics team responsible for the push strategy are able to understand both the short-term and long-term strategic business challenges for the company to start identifying which insights should be prioritized, and eventually distributed to stakeholders across the organization in an automated manner using a Pull tool.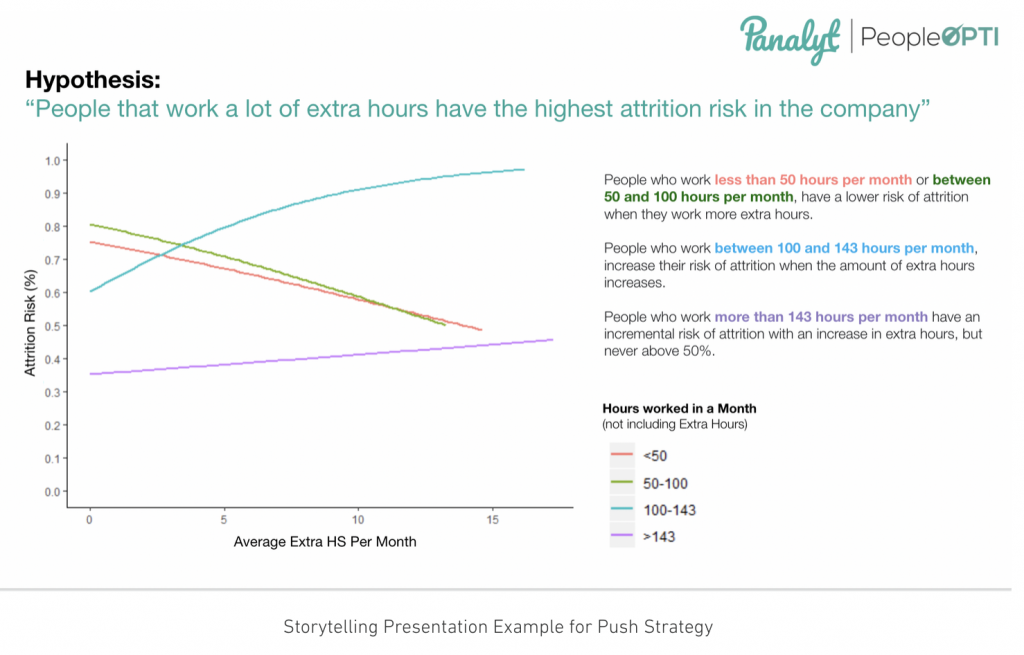 The main challenge with a Push strategy is that it is difficult to scale over time, without using technology to automate the insights to be consumed by the relevant stakeholders within the organization and inform the desired action/ change strategy – if you can't actionalize your insights what is the point of the whole exercise?

While a Data Science team can add value and create awareness with the C-suite, the organization as a whole is unable to do much with the information unless the insights can be delivered to managers in a scalable manner, both in terms of a wider number of people managers, but also scale over time, as the data needs to be constantly updated and cleaned/validated without a huge amount of effort.

The huge amount of backend work involved in the data ETL process, repeatedly in a non-scalable way is one of the main reasons preventing People Analytics teams from succeeding.

The business questions solved for using the Push strategy need to be so strategic such that even if priorities change, the question is still relevant as Push/ consulting projects are delivered in cycles of 3-4 months time which might be too late for a business to take a decision. People Analytics teams need to differentiate between such questions and the information businesses require in real-time.
The Pull Strategy in People Analytics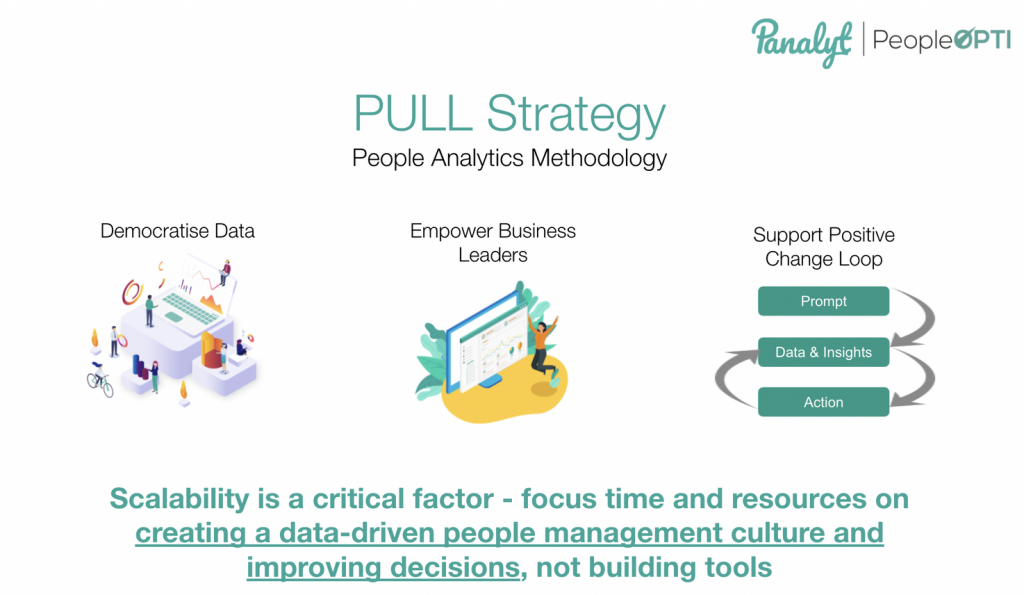 The basic tenets of a Pull strategy in People Analytics involve democratizing data to HR, line managers and CXOs, empowering business leaders to understand the data and its implications, and supporting a positive change loop of prompt (some hypothesis) -> data& insights -> action.

Scalability using existing technological solutions is a critical factor in a Pull strategy, allowing People Analytics teams to focus time and resources on creating a data-driven people management culture and improving decisions. A Pull strategy in People Analytics should be seen as a long-term transformation in the mindset of managers, from gut/instinct-based decisions to evidence-based management using readily available people data.

Generally speaking, enabling and teaching stakeholders across the organization to make better people decisions remains one of the biggest challenges for the future of the field of People Analytics.
---
Combining a Push and Pull Strategy in People Analytics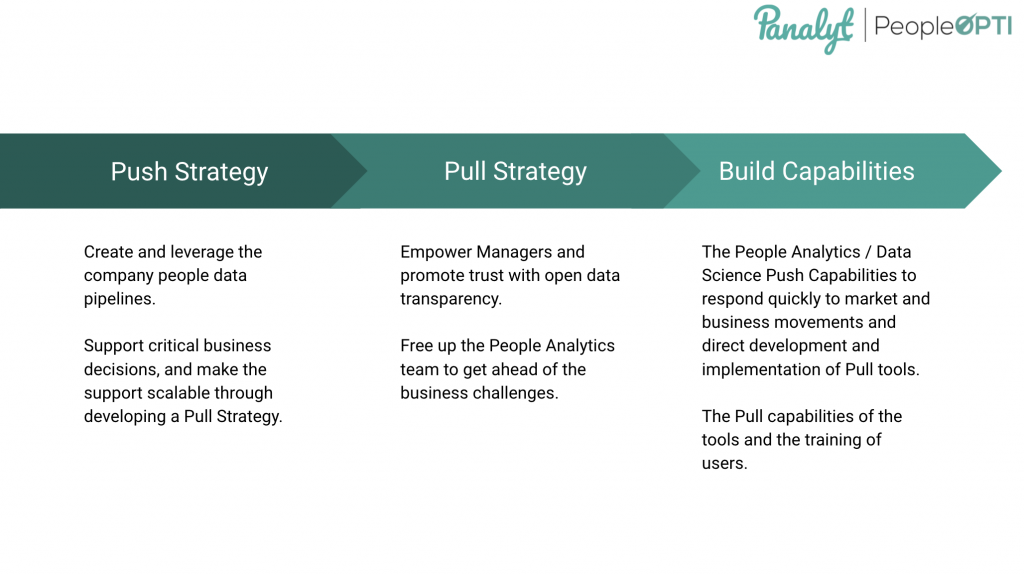 Combining a Push and Pull strategy in People Analytics is a continuous process, with the Push approach focusing on creating insights tailored to strategic and long-term core business problems, while the Pull strategy focuses on automating more frequently requested insights, empowering managers, and promoting trust and ownership.

This frees up the People Analytics team to focus on the next challenge, and continuously build up their capabilities to respond to business in an ongoing manner – as more use cases are incorporated into the Pull approach, Pull tools keep growing in capability based on the efforts of the Push strategy.
---
How Can Panalyt Empower Your People Analytics Efforts?
Here are a few video demonstrations of how Panalyt empowers business leaders, HR and line managers with answers to more commonly requested people insights, while enabling your People Analytics team can focus on finding insights and solving strategic business problems.

According to Gartner, the insights generated by Panalyt help leaders improve the performance, experience and well-being of their teams through an improved understanding of their team's engagement, retention risk, way of working, extent and degree of connection within their networks and operational performance.

---
Agents of Change – The Future Role of HR Business Partners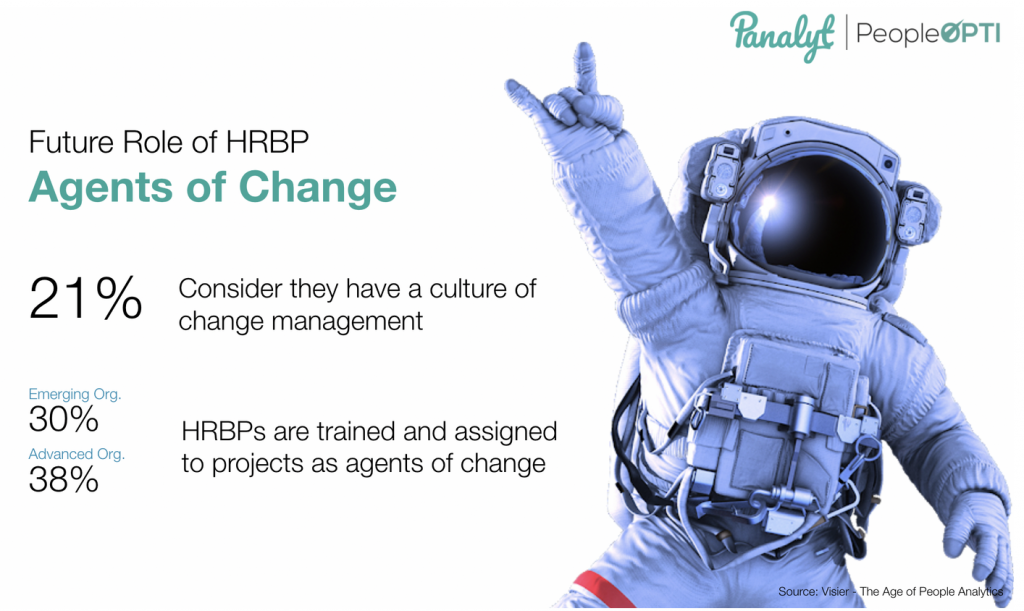 A Visier study found that only 21% of HR Business Partners surveyed acknowledged a culture of Change Management and only 1/3rd of companies are developing the skills necessary for HRBPs to be agents of change.

In order for organizations to undergo successful data-driven HR transformations, HRBPs need to become proactive agents of change. The HRBP role needs to take up a critical role as an agent of change where data is the fuel to produce the changes needed to drive transformation and change within the organization.
---
Questions & Answers
How to generate an a-ha moment while connecting people data with business impact?

It is very important to start with an important business question to mobilize the whole company. Start with business questions, hypotheses, and cultural beliefs, structure data to see what is important for the client. If the client is unable to express what's relevant for the company, start generating a library of hypotheses relevant to business stakeholders.

How can HR not just collect the data but leverage it to drive business success?

Don't boil the ocean with use cases- focus on one or two concrete use cases that you can action, make repeatable, and prove value to the business – better to have a smaller number of interventions and get it right as compared to trying lots of things and failing.
---
About Panalyt
Panalyt bridges the People-Data Gap, enabling real-time, uniform access to relevant people data, reports and insights for CxOs, HR, and business managers.
People data, including employee interactions and connections is combined with business data empowering businesses to leapfrog to data-driven decision making, eliminating bias and improving engagement, sales effectiveness, productivity and, as a result, business performance.
Interested in a further discussion on how People Analytics and Relational Analytics can help you drive an improved employee and business outcomes? Book a 30-minute discovery call with our Panalyt co-founders to learn more!