BACK
Driving Business Performance with Relational Analytics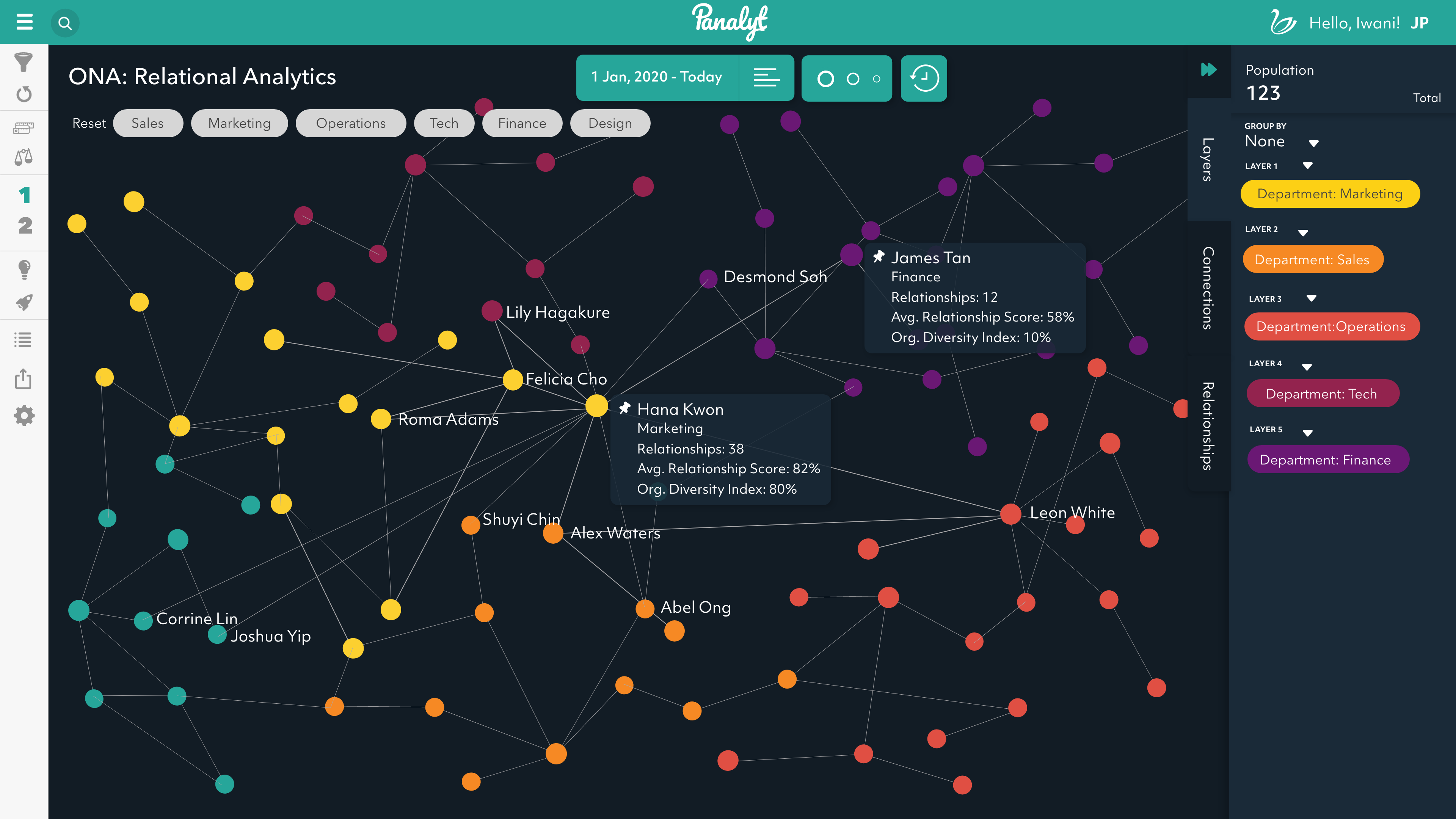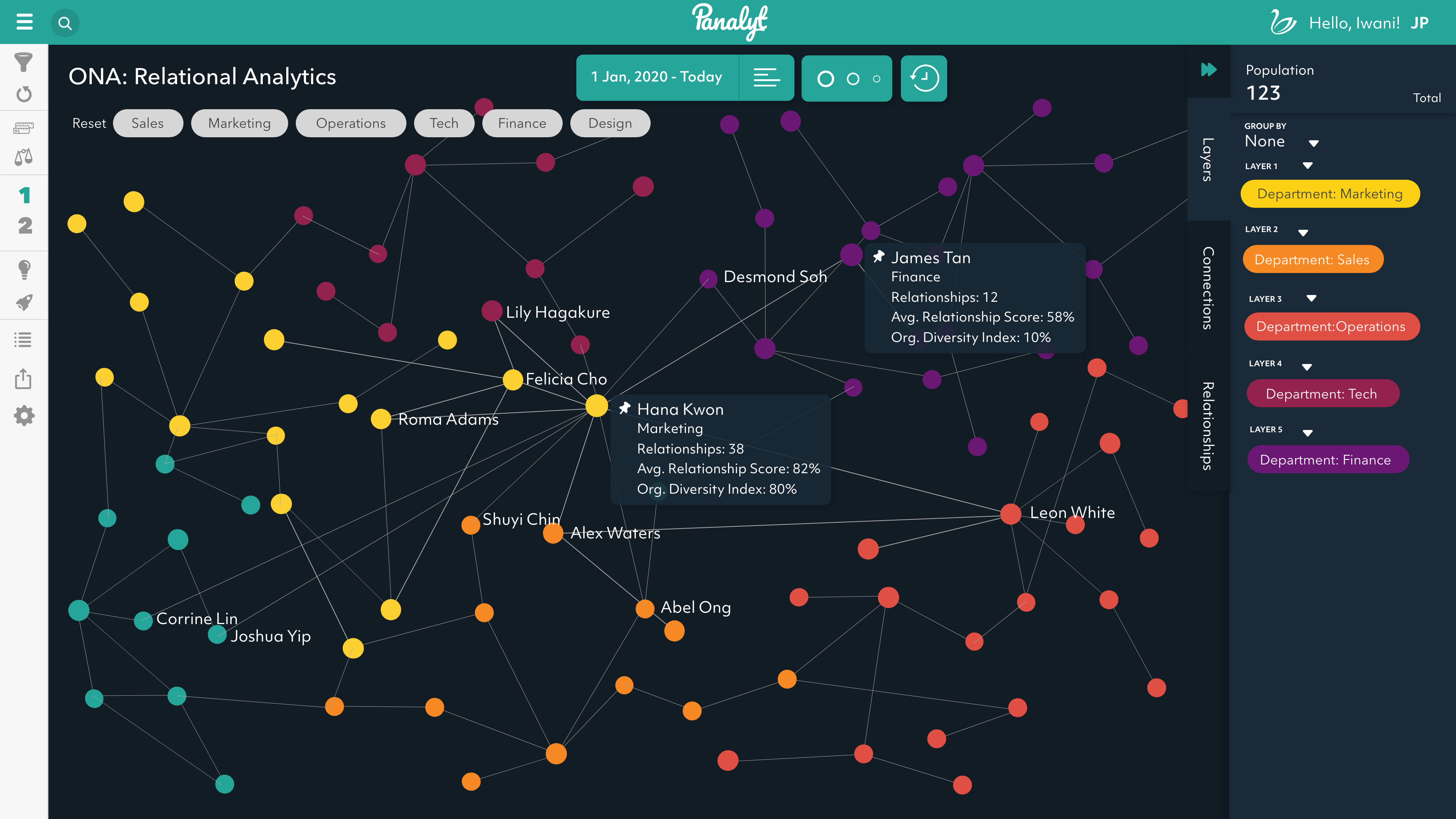 We initially built out Panalyt's relational analytics capabilities to help companies better manage the remote employee experience and identify employees at risk of isolation and burnout through the pandemic.
However, as we've relentlessly sourced feedback from a wide range of sources over the past six months ( CHROs, CXOs, Business Unit Heads, People Analytics leaders, Big 4/ MBB consultants, Network Analysis pioneers and experts from academia…we really went all out huh?), it became increasingly clear to us that integrating relational network data with traditional sources of HR, productivity and commercial data, or what we now define at Panalyt as people-enhanced data, is the missing link to solving a universally accepted problem preventing companies from bridging the people data gap :
"How do we understand and leverage the relationships between our employees to drive desired business outcomes?"
---
A Brief Introduction to Relational Analytics
Relational Analytics, i.e. understanding how employees/ groups of employees interact with each other, provides a fundamental perspective change from how companies have traditionally analyzed their workforce.
We continually analyze our employees as isolated individuals or segments
"Who are high-performing/ high-potential individuals?" "Which employee segments are engaged/ dis-engaged?" "Who is at risk of leaving the company?"
But the hard truth is that how work gets done at any company depends heavily on how employees interact with and influence each other.
With relational analytics, companies can now understand how organizational dynamics affect the performance, productivity, engagement, and attrition levels of their workforce.
" Who are the people enabling high-performers and how can we ensure talent gets access to these enablers (without overloading them)? Are there any potential high-performing cliques holding us back? " " What is the ripple effect of attrition or negative cultural perceptions in one employee segment on those employees who are strongly connected with that segment?"

I touch upon a few use cases we've uncovered through our discussions this year.
Driving Customer-Centric Agile Transformations
Driving Sales and Operational Efficiency
Accelerating Change Initiatives
Accelerating Post-Merger Integration
There are quite a few buzzwords I could throw in on the technology needed to achieve this but I'll try to keep the article as simple as possible — as you read on you'll realize it's more of just plain good ol' common sense applied at scale rather than anything else.
---
Driving Customer-Centric Agile Transformations
As it's become increasingly easier for companies to bring a new product to market, focussing on the customer experience has come to the fore as a key differentiator for the companies that will emerge as winners.
Leadership decides to zone in on V customer pain point, Product and Development think they're solving for W customer problem, Marketing claims it solves X problem, Sales says it solves Y problem while Customer Success finally tells you the software actually only solves for Z currently.
Meanwhile, your customers are left regretting that they're stuck with that big annual payment they made upfront for your product. This is such a buzzkill for your customer experience which anyone who's had any experience buying high-end software ( or any product really…) can relate to.
You might as well be better off making sense of a drunken political debate between Keith Richards and Ozzy Osbourne than attempt to understand what stakeholders across the company think the customer really wants and needs.
---
Relational Analytics provides a unique lens on how companies can keep a customer-centric approach throughout the technology lifecycle- from Business Strategy, to Product Development, to Sales & Marketing and Customer Success Alignment.
How frequently is your senior leadership interacting with the front lines of your organization to get a true pulse of the customer experience?
Are your business plans and product development roadmaps aligned with solving the pain points your team is uncovering across the customer journey?
Are your internal customer-facing teams communicating and collaborating efficiently with each other?
Do your salespeople have strong relationships with marketing and technical experts to help push a deal through?
Is your customer success team well connected to your software development team to quickly resolve any bugs reported by your customers?"
It's quite comical how companies spend so much time and money on a big consulting transformation exercise and designing agile organizational structures and business processes on slide decks, only to fail because there's no visibility into the actual situation on the ground, and then engage in another consulting exercise 6 months later. Straight outta Dilbert!
---
Driving Sales and Operational Efficiency
Relational Analytics helps you close more deals by uncovering hidden relationship patterns in your sales team's customer and intra-company networks enabling you to identify points of intervention and coaching.
Key benefits of using relational analytics for your sales team include:
Measure the effectiveness of customer relationships
Ensure internal alignment to deal progression
Accelerate sales rep onboarding
Identify individual areas of coaching and improvement
Gain accurate deal forecasting based on customer responsiveness.
Note: While the examples given below are sales-related, the same insights can be applied to any customer-facing team or even to operations and recruitment networks.
---
Sales is an inherently social activity(duh!). People tend to buy from those they trust and have a pre-existing relationship with. However, we as human beings also get influenced by the relationships formed across our network of peers and their perception of people. If I know Cheech, and Cheech is trusted by Chong, it becomes incredibly easier for me to build a relationship with Chong. Social proof 101. Similarly, Sales teams can leverage their collective networks to drive increased sales!
Kink time! Let's do a roleplay —
You're the sales manager, Mari.

Ajay has a relationship with Angsa's CIO Sonny thanks to selling product vertical A to their IT team. Meanwhile, Hana is trying to approach Angsa to sell product vertical B to their Finance team.

Would you rather:

A. Hana attempts to approach the CFO Cher with another cold email sequence asking for a quick call or

B. You connect Ajay to Sonny through Hana to get a referral to Cher through Sonny?

I got you babe.

In the meantime, you observe your relatively new hire, James, has taken over a few key accounts for vertical C and he's not well-connected with your team (or even you for that matter!). What would you do?
This is where integrating people data with commercial data becomes interesting: it allows you to model attrition risk and see how it could potentially translate to commercial risk. You could also create layers for the companies where your current employees — even outside of your salesforce — have worked, then use those connections to get a foot in the door at your target prospects. You drive revenues by leveraging the collective network of your organization!
---
Enterprise sales, in a very simplified sense, is very similar to courting a partner.
The responsiveness of your prospects is an indicator of how interested and engaged they are in you and your offering.
More often than not, it isn't enough to simply win over one internal champion (or the person you like) to push a deal through. You also need to establish strong relationships with different stakeholders in the prospect organization, like the technical buyer, economic buyer and the business users, or risk the deal falling through if any one key stakeholder isn't aligned on your value proposition to solve their business problem.
Quite similar to her friends saying "oh, maybe he's not the best match for you. Oh actually, look that guy on this dating app seems amazing, totally ripped and handsome. Oh and his profile mentions AI and Blockchain!! "
Mate, that's probably the end of your fledgling enterprise sales romance right there.
---
Looking back at network dynamics for previously won deals can also help you predict the likelihood to close for current deals in your pipeline, and identifying the communication behaviors of successful sales reps where a senior sales manager should be stepping in to intervene and help a sales rep with a deal.
---
Extra: Remote Sales Onboarding/ Team Culture
While attrition hasn't been a major concern through the pandemic (you'd have to really hate your job to quit in this economic climate!), remote onboarding has presented a whole new challenge — especially for sales teams as they try to get new reps onboarded, integrated and productive as soon as possible to maximize revenues.
Relational Analytics allows you to drive transparent and informed sales rep onboarding by automatically highlighting the strongest relationships of the departed sales rep. The sales leader coaches the new rep on the network he or she needs to immediately nurture, ensuring faster and more effective onboarding.
It's also very important for sales managers to build strong relationships with their sales reps to keep them engaged and productive.
Sales isn't always fun. Speaking from experience, it can be downright depressing at times. There are a lot of rejections involved on a daily basis. Sales managers have to ensure that their team members are not isolated, that there is a healthy relationship between team members, and that they support those who might be struggling (high-performing sales cliques are cliched but a given in any organization).
While this has become exponentially tougher in a remote environment, relational analytics provides a means to identify potential issues with employee engagement/burnout and intervene before they become bigger problems.
---
Accelerating Change Initiatives
Identifying organizational influencers for successful change management is easily the most intuitive application of relational analytics today given how frequently we come across influencers on social media.
In the same way that companies leverage influencers/ micro-influencers to accelerate go-to-markets, drive revenues & brand recognition, companies can leverage relational analytics to identify which individuals can be leveraged as change agents to influence/nudge their peers to drive the adoption of the desired change in a hyper-targeted manner, rather than the conventional top-down approach where companies attempt to spread change as if spreading peanut butter on toast.
Stealing an example from Crossing the Chasm by Geoffrey Moore –
Imagine if you could spread change similar to how the Allied forces invaded and won against the Axis in WWII. You know where you want to spread change ( where you want to invade) but to achieve this you first identify your influencers ( your beach-head at Normandy) & from here you strategically expand across the organization by leveraging their influence to get people on-board aligned with your desired change goals ( win neighboring territories) until you finally achieve your goal of organization-wide change and transformation.
---
Accelerating Post-Merger Integration
M&A activity levels are through the roof — every other browser notification is about either an established company acquiring a startup for innovation gains or a hyper-growth unicorn expanding its global presence by acquiring smaller regional competitors.
However, inefficient post-merger integration is where these deals have historically fallen short. Millions of dollars are being left on the table due to unrealized synergies. In fact, according to an HBR article, 70% -90% of all acquisitions are abysmal failures as a reason, despite companies spending upwards of $2 trillion(as of 2011) on acquisitions each year.
A big part of this is due to inefficiencies in the value capture, operating model implementation and change management processes required to ensure a successful post-merger integration.
Both companies and consulting firms face a pain point around having a lack of visibility into how the acquired employees are actually assimilating into the parent company & how the new organization is actually communicating & collaborating in real-time, as compared to the proposed organizational design & change plans.
This leads to organizational silos and prevents the cross-pollination of knowledge across the merged entities.
Relational Analytics provides a means to easily identify any people-related inefficiencies in the post-merger integration process in real-time, allowing you to observe whether the social network of your organization, i.e. how work really gets done, aligns with your proposed organizational design and allows you to identify informal influencers across the merged entities to leverage as change agents to drive successful post-merger integrations.
As companies announce long-term plans to stay with remote/ hybrid working environments, it becomes increasingly difficult to observe potential issues both in business operations as well as the remote employee experience.
Relational analytics provides you a means to stay ahead of the curve by helping you identify where you need to act and intervene before the issues become bigger problems.
To wrap up, I'd like to thank everyone who took the time to give us their feedback on how relational analytics could help them with their current issues and workflows.
We've come across some other very interesting use cases outside of these examples. Understanding network effects on performance( high performing cliques), attrition( sales manager/ tech lead leaves, key team members leave soon after) and culture( clusters of high/ low engagement — I bitch about the company and affect everyone else's perception around me) has been an area I've personally found to be beyond fascinating!
To answer the main question around employee privacy and concerns on how the data is used, I'd argue it all comes down to being transparent about what data points are being used (in our case, we don't look at the content just the metadata), why they're being used ( i.e. your business case) and the potential benefits of how relational analytics can help employees overcome inefficiencies and biases in the status quo to progress their career.
Combating network privilege to ensure diverse talent gets an equal opportunity to build relationships with upper management to develop their skills and identifying potential biases in performance/ promotion review panels are examples of how relational analytics can help fix/revamp currently broken processes.
I hope this article shined a light on the potential benefits of relational analytics when combined with traditional sources of people and business productivity data, and can nudge you to get started with integrating these insights into how you think about your workforce- whether it is with us at Panalyt or even your own internal projects.
Feel free to write to me at yusuf@panalyt.com to learn more about how relational analytics can help you drive business performance.
---
About Panalyt
Panalyt bridges the People-Data Gap, enabling real-time, uniform access to relevant people data, reports, and insights for CxOs, HR, and business managers.
People data, including employee interactions and connections, is combined with business data empowering businesses to leapfrog to data-driven decision making, eliminating bias and improving engagement, sales effectiveness, productivity, and, as a result, business performance.
Interested in a further discussion on how People Analytics and Relational Analytics can help you drive an improved employee and business outcomes? Book a 30-minute discovery call with our Panalyt co-founders to learn more!