BACK
Measuring Inclusion with Relational Analytics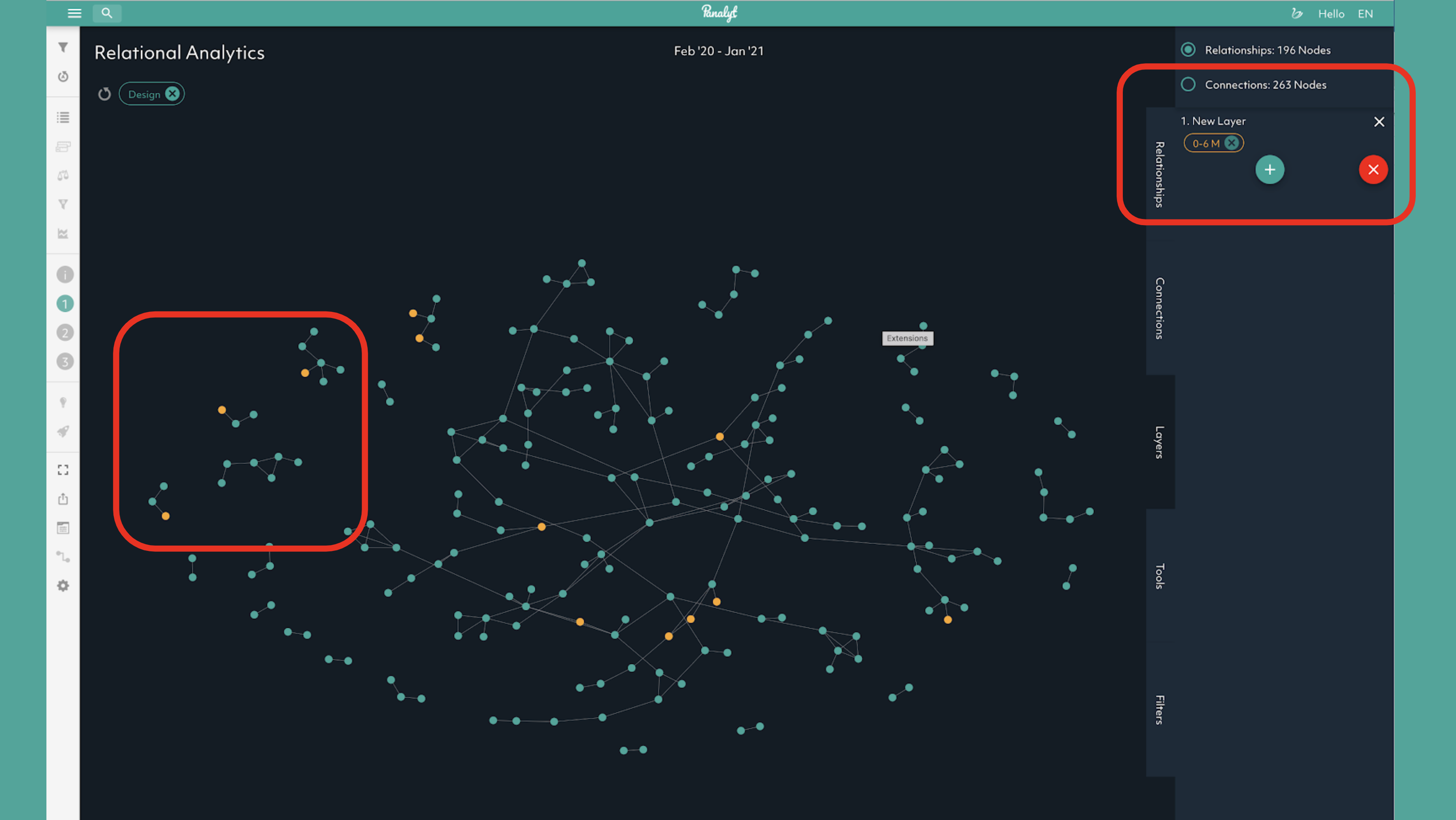 This is an excerpt from Panalyt's detailed guide "Accelerating Advancement of Diverse Talent With People Analytics & Organizational Network Analysis"written with ex-Mckinsey Asia Head of Diversity & Inclusion Grace Ho
The accelerated shift to remote and hybrid work models has led to a consistent C-level concern: " Are employees effectively building relationships in a virtual environment?"
There's always been a major gap in understanding how work really gets done at an organization. Org charts / org designs are hypothetical in nature and don't give you the ground reality on how people are actually collaborating.
Relational Analytics enables you to measure the strength of employee and customer relationships by mining behavioral insights from communications and collaboration data.
Amongst other use cases around improving employee productivity, innovation, and wellness, Relational Analytics can also be an incredibly powerful tool to identify exclusionary cliques hindering your DEIB efforts.

More specifically Employee Onboarding, Relational Analytics helps you see how employees build relationships during onboarding and this helps you ensure employees from diverse backgrounds are integrating into the organization.
Stronger relationships formed early in the career have a direct correlation with the chances of employees succeeding in their roles and moving upwards in the organization – and the Relational Analytics data allows you to structure interventions and more effective mentorship/ buddy programs to integrate new hires into the organization through connecting them to highly networked individuals in the organization.
"Individuals with a higher connectivity/relationship score were more likely to report higher job satisfaction, perform better at work, and be more productive. Workers with higher connectivity scores were also more likely to stay at their current company longer." – Zoom Video Communications, Australia Connectivity Report
If a predominant population is identified as isolated, a company can consider setting up Employee Resource Groups to connect people from similar backgrounds, or might share similar interests or be passionate about a common cause. While at first glance, this might seem to reinforce silos – using Relational Analytics can also help you ensure that the ERGs can be connected to highly networked people within the organization to improve visibility and influence within the organization.

Relational Analytics also helps you understand if people are building networks inside their teams or diverse networks across different teams, locations, and grade levels, i.e. the dynamics of how employees socialize within and across teams, allowing you to identify projects that give exposure and identifying areas to improve the cross-pollination such as giving them projects that give them exposure.
A major global Japanese conglomerate working with Panalyt was able to include new hires in Japan on global projects and identify areas of intervention where new hires needed help with successfully collaborating in a distributed environment.

About Panalyt
Panalyt bridges the People-Data Gap, enabling real-time, uniform access to relevant people data, reports and insights for CxOs, HR and business managers.
People data, including employee interactions and connections is combined with business data empowering businesses to leapfrog to data-driven decision making, eliminating bias and improving engagement, sales effectiveness, productivity and, as a result, business performance.
Interested in a further discussion on how People Analytics and Relational Analytics can help you drive an improved employee and business outcomes? Book a 30-minute discovery call with our Panalyt co-founders to learn more!