BACK
Panalyt — Connecting Data Across Your HR Tech Stack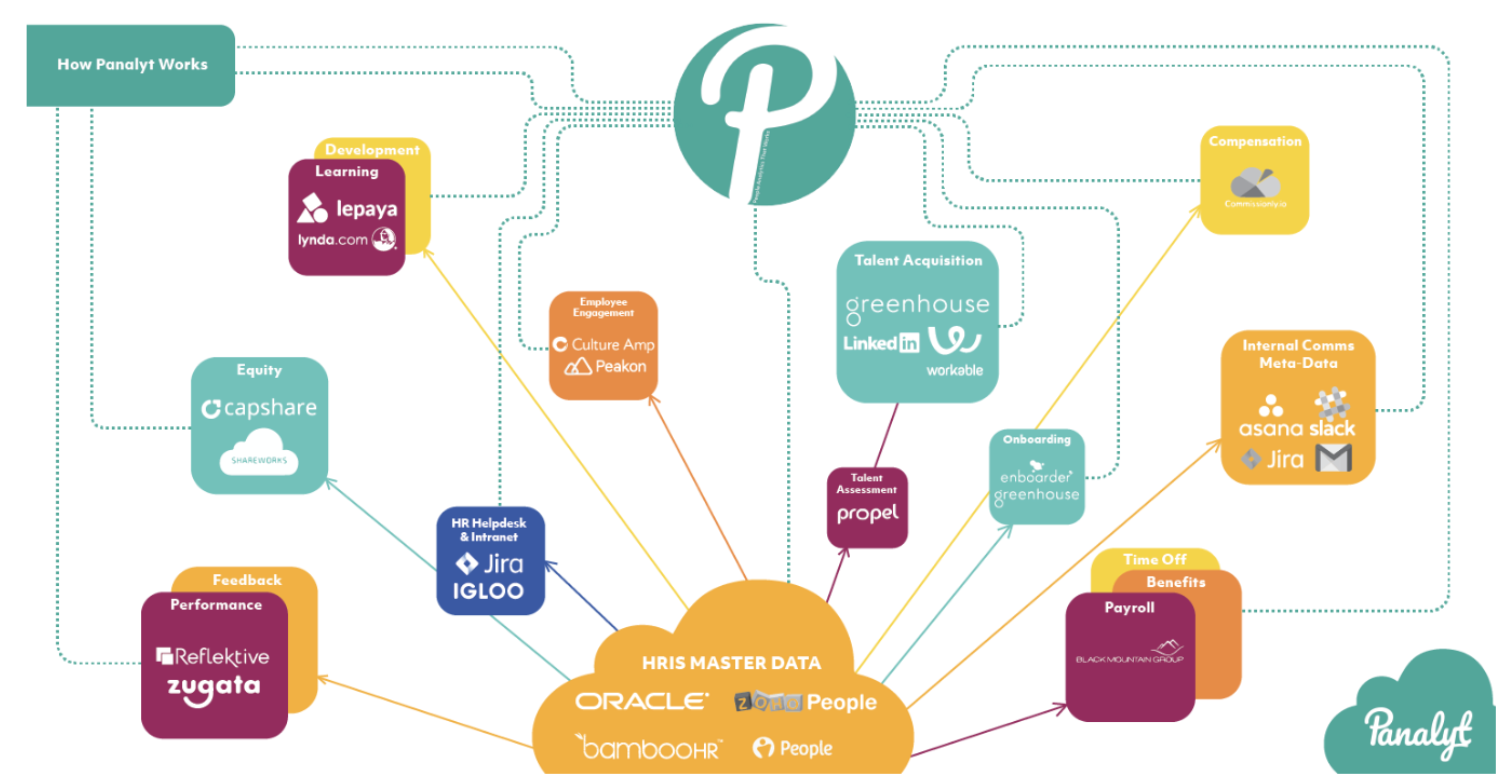 The Human Resources technology space is being revolutionized by a deluge of new SaaS software that is helping people teams of all sizes improve their process efficiency and more importantly, improve the end-to-end employee experience leading to increased employee engagement and satisfaction, ultimately resulting in reduced turnover and better hires.
The emergence of affordable, reliable and customizable software in all spheres of HR is allowing people teams to gather insights and run analytical experiments in a manner that was previously limited to dedicated people analytics teams at big corporations and tech unicorns.
However, the elephant in the room from an analytical standpoint is that while these tools are excellent niche products, the insights they provide are limited to their respective silos which hinders their effectiveness and impact on people decisions.

This article seems rather vague and unconvincing so far right? That's how it seems to senior management when you serve them the latest report on employee engagement survey results with no reference to its impact on employee turnover or performance (Follow The Drill Down for more analytical experiments that you could implement to kickstart your organization's people analytics journey).
Building an effective people analytics suite for your organization is just like building the organization itself, you really need to be sure that all the cogs in the wheelwork well in cohesion in addition to having the best tools for your needs in each silo. A standard analytical pipeline would include:
1. Retrieving live data from tools across different HR silos and feeding it to an internal HR data mart
2. Cross-silo analytics to produce key metrics along with their impact on key management objectives
3. Visualising the aforementioned results in a convincing manner, with metrics displayed against KPIs and the ability to slice and dice the data to drill down into people problems and run people analytics experiments.
HR has traditionally been allocated minimal technological manpower due to which the aforementioned steps are carried out by a data analyst spending countless hours manually importing and transforming the information from each system into spreadsheets, calculating a few key metrics across a single dimension and presenting the information in a slide deck. This is a highly inefficient process as demonstrated below:
1. Manual exports and transformations instead of automating the same using direct API connections and code which would save time and ensure real-time data. HR reporting currently runs a few weeks (or even months behind in a few cases) due to the challenges involved in preparing the data for analysis.
2. As powerful as Excel is, it fails when it comes to advanced analytics- ie reporting on metrics across an infinite combination of variables and reporting variances against KPIs set on an individual level. Let's not even get started on the challenges of implementing any Machine Learning driven experiment.
3. Powerpoint slides serve the purpose of showing a few standalone metrics and graphs to management on an on-demand basis rather than providing an ad-hoc, self-service analytical sandbox for users to effectively analyse their data in real-time. This severely constraints HR in terms of delivering actionable insights on a line manager level and the stakeholders cannot drill down into the data to find potential causes of concern.
The lack of automated processes to get timely data along with primitive analytics and reporting reduces the promised speedball of actionable people analytics to mere Peruvian shoe scrapings. People teams are severely constrained by the lack of development, business intelligence and data analytics/science/engineering resources.

You could spend time and money building up your people team's analytical skills and hiring extremely costly analytical resources.
Or you could use Panalyt.
---

About Panalyt
Panalyt bridges the People-Data Gap, enabling real-time, uniform access to relevant people data, reports, and insights for CxOs, HR, and business managers.
People data, including employee interactions and connections, is combined with business data empowering businesses to leapfrog to data-driven decision making, eliminating bias and improving engagement, sales effectiveness, productivity, and, as a result, business performance.
Interested in a further discussion on how People Analytics and Relational Analytics can help you drive an improved employee and business outcomes? Book a 30-minute discovery call with our Panalyt co-founders to learn more!