BACK
Why People Analytics Projects Fail To Deliver Value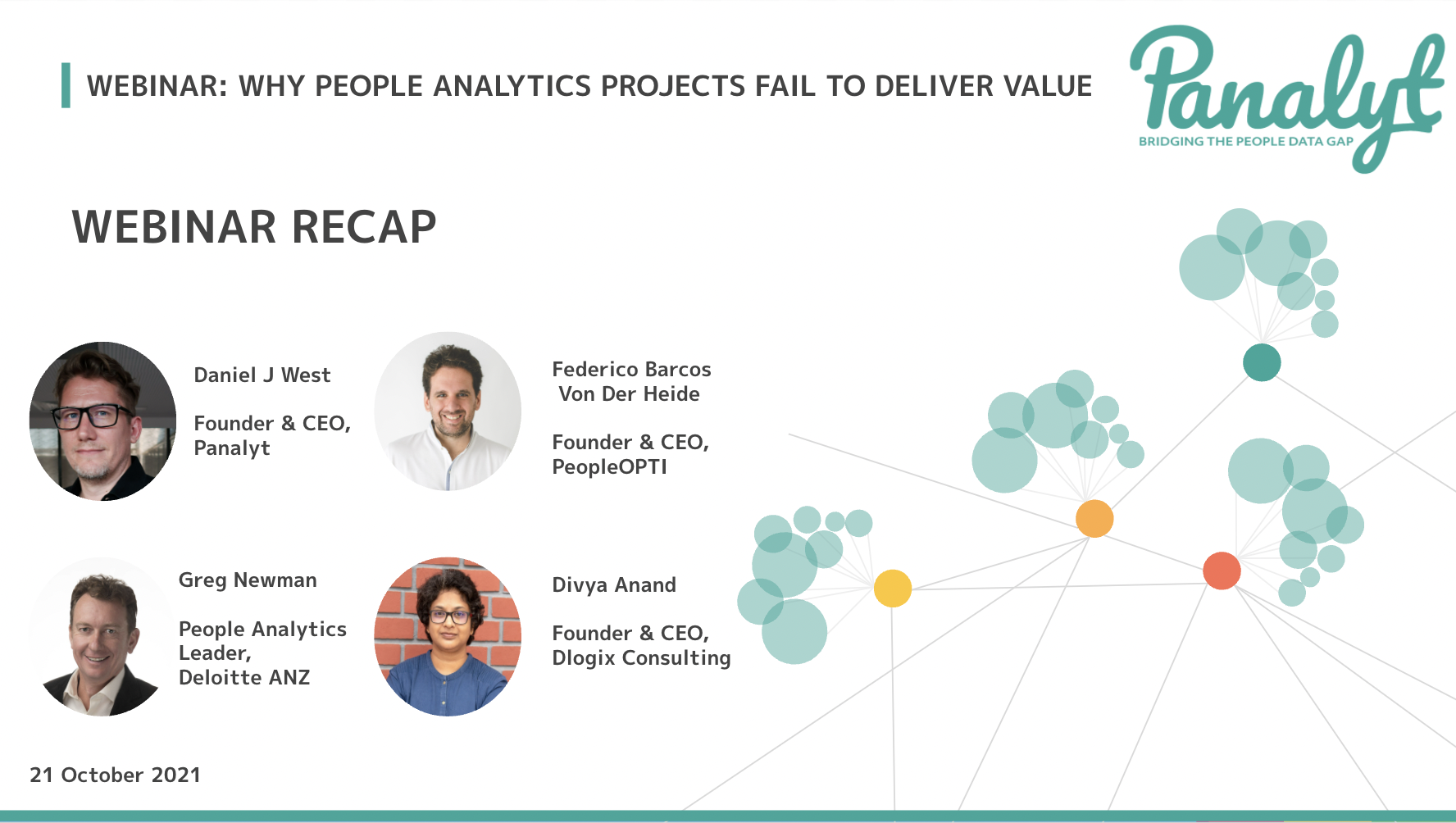 This article is a recap of Panalyt's webinar, Why People Analytics Projects Fail To Deliver Value, a panel discussion with a stellar group of People Analytics leaders who have previously been involved in People Analytics initiatives at leading organizations such as Uber, McDonald's, Coca-Cola FEMSA, Sanofi, Flipkart, and Swiggy in projects that span all levels of maturity, from getting the basics right to setting up advanced and predictive analytics, to enabling HRBPs as strategic partners to the business. All Panalyt webinar recordings are available at https://www.panalyt.com/webinars
---
Table of Contents
---
People Analytics Panel Experts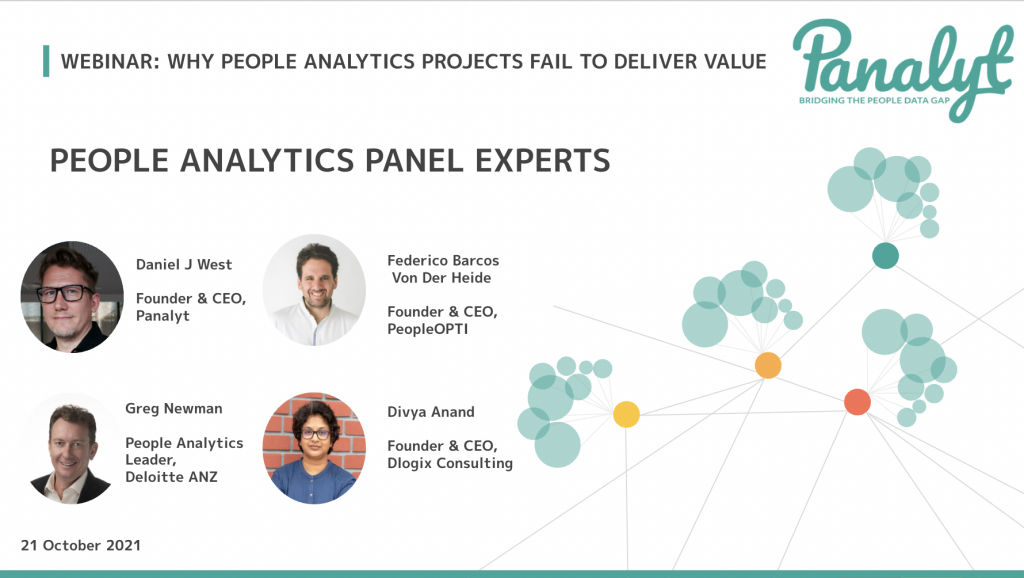 –Daniel West, Founder & CEO, Panalyt: Prior to founding Panalyt, Daniel has spent over 20 years in strategic HR leadership roles with some of the world's top employers such as Uber and Apple, and has experienced first-hand the difficulties all companies face in tying together their people-data, finding meaning in it, and making it transparent to managers and employees alike.
– Federico Barcos von der Heide, Founder & CEO, PeopleOPTI: Federico has over 15 years as a Human Resources consultant and currently holds the position of Founder & CEO at PeopleOPTI. He has extensive educational training: sociologist, MBA, executive programs in Human Resources strategy, startups, change management and data science at universities such as London Business School, UCLA, Kellogg, Tecnológico de Monterrey and IAE Business School.
–Divya Anand, Founder & CEO, Dlogix Consulting: Divya is a seasoned HR professional with more than 2 decades of strong experience in the global IT industry at organizations like Texas Instruments, McAfee, Flipkart and Cleartrip. Best described as someone with a rare combination of People, Technology and Business understanding, Divya has a passion for brainstorming ideas with industry experts and organizations on developing next generation HR products.
Divya founded a boutique HR Consulting firm Dlogix in 2016 and has enabled several clients including unicorn Swiggy to realize her vision of HR as a key transformation agent for business success. She has also has recently authored and published a book "Analytics Demystified" – A framework for beginners and students in September 2021.
– Greg Newman, People Analytics Leader, Deloitte ANZ: Greg's role at Deloitte Australia is focused on delivering People Analytics & HR Technology-As-A-Service to empower organizations (and employees) with good data to make better decisions. Previously Greg was the Client Experience Lead within Human Capital as a Service at Deloitte, enabling clients to leverage Deloitte's Workforce Analytics platform, and the Chief Storyteller / People Analytics lead at TrustSphere, helping clients to understand the relationships, communications and networks that power organizations.
---
What Makes the Key Difference b/w Successful & Unsuccessful People Analytics Projects?
Greg spoke about the need to be mindful of your organization's People Analytics capabilities & resources while attempting to build out a function instead of blindly copying the approach of extremely well-funded teams at some of the world's largest organizations.
Divya talked about aligning People Analytics efforts with immediate business use cases, and initially focussing on small, quick wins to build momentum.
Federico shared why People Analytics teams need to ensure their analytical products empower their end-users to better understand and ultimately change their behavior to drive improved business and employee outcomes.
---
Examples of Unsuccessful People Analytics Projects and Why They Were Unsuccessful
Federico talked about the importance of stakeholder management and managing the different needs and expectations of different stakeholders from the internal buyer/champion of an analytics project, to adding value to the end-user and enabling them to change their behavior to achieve desired outcomes.
Divya mentioned educating internal clients in companies with low People Analytics maturity on the use cases where People Analytics can help the business and demonstrate impact in a short period of time. She also cites the lack of data quality, governance, and processes as a commonly faced problem.
Greg spoke about the need to align People Analytics efforts with business strategy, and also strategically design dashboards and visuals to enable and empower end-users to make the desired change.
---
Examples of Successful People Analytics Projects & Why They Were Successful
Divya Anand shared a workforce planning related project where her team looked at the span of control across the organization and identified employees who can be moved to reduce the burden on managers with a large number of direct reports, along with suggesting career paths for the employees who were to be moved. They also predicted attrition over a six-month period and highlighted the anticipated vacant positions to the recruitment team so they could start building their candidate pipelines for those roles accordingly.
Divya also spoke about using People Analytics to identify process gaps and accordingly introduce automation / reduce redundant headcount to improve efficiencies, and also about how a focus on People Analytics will inevitably help improve HR data quality as HR data is utilized and visualized more frequently.
Greg shared an example from the healthcare sector where his team predicted employee absence for front-line workers during the pandemic based on the previous 12 month's Time & Attendance data. This analysis helped the healthcare organization re-organize their Full-Time workforce based on predictive absences, providing an immediate ROI as managers could now prevent having to pay 2-3x more to last-minute contract staff hired due to an unexpected absence.
Federico mentioned a project with a leading Fast Food chain in LATAM where his team advised the CHRO against going ahead and investing money in a proposed initiative to reduce the frequency of mobility of the management team in each restaurant location, as analyzing the historical data revealed that this would change have minimal impact on key business metrics for the firm such as sales, gross margin, attrition and CSAT.
---
Questions & Answers
The panel also answered questions about the anomalous nature of people data collected through the Covid-19 pandemic and discuss applications of People Analytics in Learning & Development.
---
About Panalyt
Panalyt integrates and analyzes people data scattered across disparate HR, Productivity, Finance and Digital Communications systems, and files, to provide actionable and holistic people insights to the C-suite, HR /HRBPs and Line Managers through our suite of pre-built dashboards covering the end-to-end employee lifecycle.
In addition, we also allow PA/ HR BI teams to directly access our integrated people data warehouse to drastically reduce the time and effort required for strategic, ad-hoc internal PA projects. We are usually able to implement and start displaying insights within 2-4 weeks of kick-off.
Please find a curated list of introductory resources ( case studies, product videos and decks, webinars, podcasts) at https://www.panalyt.com/introduction