BACK
Panalyt raises US$3 Million To Enable Data-Driven Employee Decisions in the Workplace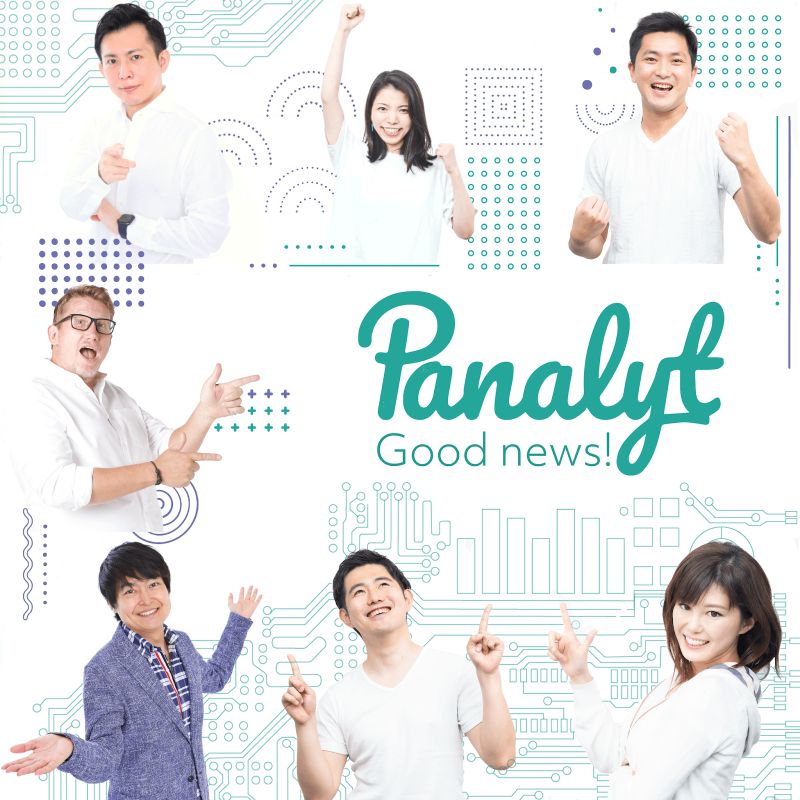 Global People Analytics software vendor Panalyt has successfully closed a US$3 Million seed round, led by D4v (d4v.com) and including the Chiba Dojo Fund (chiba-dojo.jp/en/) and Headline Asia (headline.com/). Panalyt is also relocating its Headquarters to Tokyo in August 2021.

Panalyt has successfully closed a US$3 million seed round, led by D4v (d4v.com) and including the Chiba Dojo Fund (chiba-dojo.jp/en/) and Headline Asia (headline.com/).
Due to the growth of Panalyt in Japan, and the huge potential of that market, as well as the strong interest level and support of the Japan investment community, we are establishing a new HQ entity in Japan, Panalyt Group Co., Ltd., as the parent company , effective August 2021.
---
■ Panalyt – "The Balance Sheet for HR", Essential for Future Business Leaders, HR and People Managers
Panalyt empowers business leaders, HR and people managers across the organization to make data-driven employees decisions without relying solely on experience and intuition by enabling access to relevant, timely people data and insights across the employee lifecycle through its suite of pre-built dashboards, reports and visualizations.
Founder & CEO, Daniel J West explains; "Company leaders, HR professionals and line-managers alike all need to be looking at the same data around people, and have the same, instant access to essential data, trends and insights, from all of the many tools the company uses to manage their people. Companies have this common view when it comes to financial reporting; reports, forecasts and balance sheets for the business are easily understood and shared between stakeholders, and Panalyt aims to fill the same gap for People Data, as the Balance Sheet for HR".
The tools and frameworks for supporting and streamlining better-decision making based on data have already penetrated not only financial statements in the financial domain but also SFA in the sales domain and CRM in the marketing domain.

In the Human Resources field, there has been an exponential increase in niche SaaS HR technology tools* to improve the efficiency of various human resources operations, highlighting a need to integrate and analyze HR data across disparate systems and spreadsheets, and then empower people managers with timely access to actionable people data and insights across the employee lifecycle.

Panalyt's innovations in the space of Relational Analytics / Organizational Network Analysis has led to Panalyt being recognized as a leading global People Analytics vendor by RedThread Research, as a Gartner "Cool Vendor 2021" in HCM technologies to support the Future of Work, and the HR Technology Excellence Award for People Analytics by the Japan Ministry of Economy, Trade and Industry.
---

■ Why move the headquarters function to Japan?
After customer deployments in seven countries, we have determined that Japan has the largest output gap and room for growth in terms of effectively using people data to improve organizational decision-making.

》Rapid expansion of demand

In line with the increasing demand for People Analytics globally, the momentum for the effective use of personnel data has been rapidly improving in Japan, especially in the past few years.
Improving digital literacy in the HR department: boosted by the penetration of HR technology tools* to streamline HR operations
Adaptation to remote work management: It is difficult to grasp and visualize the productivity and engagement status of members in a company that has been forced to rapidly adapt to the remote work management system due to the influence of the recent coronavirus pandemic
Requests from Capital Markets: With the announcement in August 2020 that the SEC (US Securities and Exchange Commission) will require visualization of human capital, interest in the development and visualization of human capital and indicators is increasing in Japan as well.
》Supply side issues

In terms of the systems that promote the utilization of personnel data, there is a gap between Western countries and Japan in terms of both human resources and infrastructure investment.
Western companies : When the number of employees reaches a certain scale, a data team dedicated to human resources called a People Analytics team is formed. After investing in the necessary data analysis infrastructure, it works with people leaders and HR business partners to establish a system to solve personnel issues in a data-driven manner.
Japanese companies : Not only People Analytics teams but also the Human Resources teams themselves are still scarce, and there are few successful cases that can justify the investment required for building a people analytics infrastructure. In light of this, Japanese companies have not made much progress in the strengthening of their systems to enable effective data-driven people decisions.

》Signs in the Japanese market
Panalyt's philosophy of "Small Start, Quick Win" (start small and quickly accumulate results) is enabling organizations to start utilizing HR data at a lower price, lower load, and in a shorter period of time than conventional methods (using data). In some cases, the hypothesis testing of employee issues has been shortened from the conventional one month to 15 minutes.

Panalyt has already been deployed in enterprises across various industries with hundreds to hundreds of thousands of employees, and is also being used by senior management and on-site business managers outside of the HR department.

As Japanese client companies account for a large percentage of our sales, and as investor interest in this market is high, we are moving our HQ to Japan so we can further strengthen the development and support system for Japanese companies. We are wholly focused on giving line managers and HR partners access to all of their data, from all their systems and files, integrated and accessible to help them make better people decisions, for better employee experiences and better business outcomes.

The transfer of our HQ to Japan does not mean a withdrawal from other markets. The need for greater access to People Data is a global issue for companies, and Panalyt is built as a global product. We have a fantastic network of specialist People Analytics partner companies who are taking Panalyt into their markets and will continue to fuel our international growth.

---
■ Panalyt Founding Story and Management Team

Panalyt was founded in Singapore in 2017 by group CEO, Daniel J West. With decades of senior HR leadership experience at the world's most progressive organizations, Daniel has used People Analytics to drive organizational decision-making at firms such as Uber, Apple, Morgan Stanley to overcome organizational changes associated with rapid business growth and transformation.

However, Daniel founded Panalyt to ensure that any company can leverage their People Data in their day-to-day decision-making to make better People decisions, for better business outcomes.
Takako Ogawa, CEO Panalyt Japan, who launched the Panalyt office in Japan in 2019, has the experience of promoting organizational change utilizing personnel data at the Google headquarters.

Chi Tran, COO, has previously promoted business and organizational transformation utilizing data at firms like Recruit and Google.

In addition to the highly specialized management team in the area of People Data and Analytics, we have a diverse, and fully-remote team with more than 11 nationalities working to create an easy-to-use, intuitive People Analytics interface that even users who are not necessarily familiar with HR data can use without difficulty.
---
■ Comments from investors who participated in this round

Investors who participated in our seed round have strong, relevant domain knowledge and experience to believe in our goal " Any company can easily utilize HR data, and the HR teams, management and line managers work together to support better decision-making in the organization".
D4V (Design for Ventures) Principal Asumi Ota
"As work styles evolve, from lifetime employment to the generalization of job changes, seniority to performance-based cultures, and offline to online, changes are also required in corporate human resources management.
I feel that the number of companies that hold data on their employees is increasing due to the rise of HR Tech, but I think it is important to manage it in a way that can easily lead to improved human resources management. D4V believes that Panalyt's products, which are particularly about UI design and usability, will promote the effective use of personnel data and accelerate the raising of the bar for human resources management in Japan and around the world.
D4V supports both design and management so that Panalyt can fully utilize the abundant personnel experience and global network of the management team, to permeate People Analytics to Japanese companies and enable speedy global expansion."
Chiba Dojo Fund Representative Director General Partner Kotaro Chiba
"With the advent of multiple HR Tech tools, all personnel indicators and measures can be incorporated into data, and at the same time, with the spread of work style reforms and remote work, the need for utilizing personnel data is increasing. Panalyt's products make full use of Daniel and Takako's personnel experience at global companies and I expect that the concept of people analytics as a "financial statement for human resources" will be introduced by various companies in the future. Chiba Dojo fund would like to support Panalyt's big challenge as a global company from Japan!"

Headline Asia Investor Hirohei Suzuki

"Until now, I think that in most cases, decision-making in the HR area had to be subjective and qualitative as compared to finance and marketing. We expect that Panalyt's services will reduce bias in decision-making in the HR domain and will greatly contribute to creating an environment where employees can work together comfortably. Now that remote work is becoming more widespread, I feel that it is a system aligned with the greater needs of the organization. The Headline Group will support Panalyt's growth in Japan, and future overseas expansion through bases in North America, South America, Europe and Asia."

---
■Quote From Panalyt CEO Daniel J West

Panalyt Founder & CEO Daniel J West commented:
" I spent the first 15 years of my career in Japan, and I've seen the steady development of the HR profession and the HR technology market there.
Japan has been late to embrace the great potential of People Analytics to drive better decision making, and this is in part due to the lack of a product that works for the specifics of the market. In building Panalyt, we have leveraged all our expertise as global and Japan HR professionals to give Japan a tool they can really embrace.
For Panalyt, the importance and opportunity of the Japan market, as well as the supportive and engaged local investor base, has shown us that our focus for the next stage of our growth should be Japan, and so moving our legal Headquarters has been a natural move.
We are a fully remote organisation and so this really means no change for our team members; but of course I'll be in Tokyo much more frequently, as soon as travel restrictions allow!
Our strategy over the next 24 months is to focus on Japan market growth, and ensuring that as we continue to develop a fully global product, we are making it useful and relevant for the unique aspects of Japan corporations and employees.
We remain fully committed to supporting and growing our global footprint, especially through specialist People Analytics partners like PeopleOpti in Latin America, Dlogix in India, GiuntiPsy and SMRS in Europe, and Netika Indonesia, TalearnX and Metamorph Consulting in South East Asia.
Our goal is to ensure that, far from being "left behind" in the global advancement of People Analytics, Japan HR professionals should become leaders in it.
Personally, I see this as an opportunity to give something back to the Japan HR community that trained me and gave me a great career."
The Panalyt team is wholly focused on giving line managers and HR partners access to all of their data, from all their systems and files, integrated and accessible to help them make better people decisions, for better employee experiences and better business outcomes."
---
* : As of October 2019, it is said that there are already about 450 types of HR tech services in Japan alone. HR Tech Navi "HR Tech Industry Chaos Map" https://hrtechnavi.jp/lab/ hrtech-chaosmap /