BACK
Panalyt Becomes Gartner Cool Vendor 2021!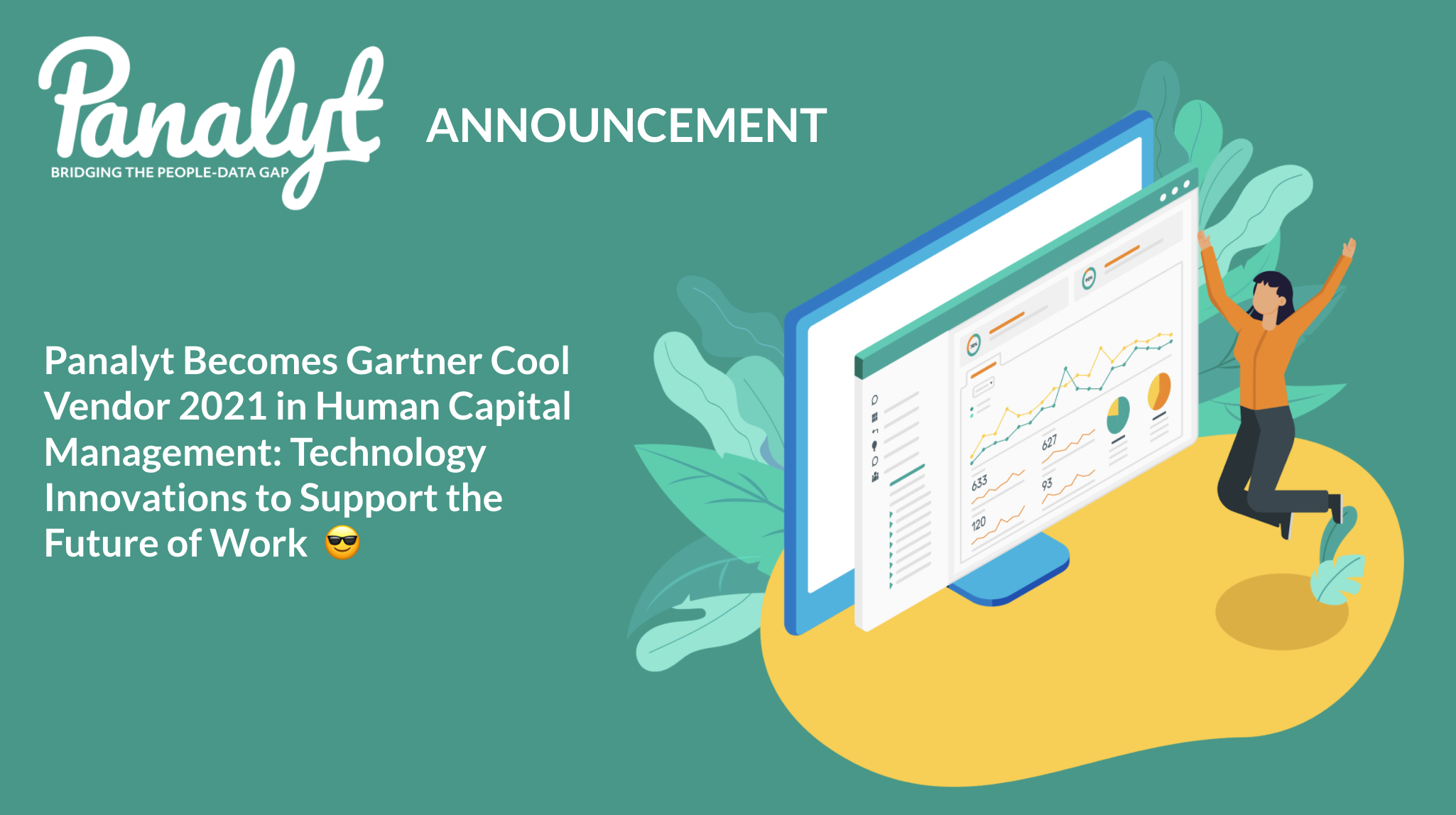 Panalyt, a leading global Relational Analytics vendor, is thrilled to announce today that it has been named as a Cool Vendor by Gartner in Human Capital Management: Technology Innovations to Support the Future of Work in their 26 April 2021 report on "Cool Vendors in Human Capital Management: Technology Innovations to Support the Future of Work".
How we work has undergone tectonic shifts only accelerated by recent events. People leaders must make bold choices today, leaders need to understand what the future may hold through metrics that can help them anticipate risks, inform strategy, and prepare for the future of work, the workforce, and the workplace.

Gartner's report on Cool Vendors in Human Capital Management: Technology Innovations to Support the Future of Work recognises HR Technology vendors who are solving for fundamental issues that need to be addressed as organizations continue to transition to long-term remote and hybrid operating models, and Panalyt is extremely delighted to be both the only People Analytics vendor and the only company headquartered in Asia featured in the Gartner report.

---
People Analytics has played a fundamental role in helping companies not only mitigate the immediate Covid impact on organisations and employees but also in helping companies plan and adapt for a future where remote/ hybrid operating models are not the exception, but the norm.
"Which employees are becoming isolated from their teams? "

"Are managers maintaining strong relationships with their teams during WFH?"

"How do we ensure new hires are still able to build strong internal networks during remote on-boarding?"

"Is remote working leading to functional silos which affect how we innovate?"

"Which employees are at risk of burnout/ collaborative overload? Are employees getting enough flow time to focus on their work between virtual meetings?"
These were the concerns we heard from our clients as early as March 2020, even before the full extent of the influence the pandemic would have on work.
Based on this feedback and learnings from SARS and other earlier pandemics, we made an early decision that Panalyt had to radically and rapidly adapt to help our clients understand how and where to rethink talent management when transitioning to remote work, and proactively identify risks and possible interventions across the remote employee lifecycle.
According to Gartner, the insights generated by Panalyt help leaders improve the performance, experience and well-being of their teams through an improved understanding of their team's engagement, retention risk, way of working, extent and degree of connection within their networks and operational performance.
It is indeed a great honour for the Panalyt team to get recognised by a leading market research firm like Gartner as an innovative vendor enabling organizations to prepare for the future of work, for our progress on enabling the C-suite, HR and Line Managers to drive improved business and employee outcomes through data-driven people decisions as their organizations adapted to new ways of working through the pandemic.
---
Panalyt Founder and CEO, Daniel J. West, commented;
"It is very gratifying to have Panalyt acknowledged by Gartner as a Cool Vendor.
At every step we've prioritized the every-day HR and business user, drawing on our backgrounds in practical HR-business partnering, rather than the typical interfaces built by, and for, technology and data professionals.
We are wholly focused on giving line managers and HR partners access to all of their data, from all their systems and files, integrated and accessible to help them make better people decisions, for better employee experiences and better business outcomes.
Panalyt democratizes data to bridge the People Data gap between siloed tools and practical, data-driven solutions."


---
Why does Gartner think we're cool?

Panalyt is cool because its primary focus is on what managers and business leaders need to know about their talent and the health of their organization; as compared to more established talent analytics solutions which are generally very focused on HR users and their need to share HR-related updates with the business leaders they support.
Organizations have traditionally focussed on People Analytics as one-off strategic projects delivering insights to a small audience of C-suite and Senior HR executives to inform people strategy. as compared to operationalizing the delivery of employee insights aggregated across multiple business systems to line managers – who are often cited as the most important aspect of the Employee Experience.

The lack of a consistent, connected, accessible and repeatable approach to People Analytics, or Practical People Analytics as we call it, leads to a cycle where people managers – who are often cited as the most important aspect of the Employee Experience – are unable to access holistic, actionable employee insights aggregated across the employee lifecyle.
This People-Data Gap causes a perpetuation of important people decisions made on gut feel, bias and assumptions across the organization.

Panalyt bridges the People-Data Gap, enabling real-time, uniform access to relevant people data, reports and insights for CxOs, HR and business managers.
People data, including employee interactions and connections is combined with business data, catalyzing new insights and intelligence. Predictive analytics moves the business from reactive to proactive, identifying correlations and points of intervention.
The People Enhanced Data movement empowers businesses to leapfrog to data-driven HR decision making, eliminating bias and improving engagement, sales effectiveness, productivity and, as a result, business performance.

---
Panalyt combines multiple data sources to give managers a view into how their teams are working and performing. It combines typical HR metrics with ONA and other work-related and role-specific insights coming from business systems. This can include comparative work volumes for load balancing, or degrees to which team members are connected to other parts of the organization.
The accelerated shift to remote and hybrid work models has led to a consistent C-level concern: " Are employees effectively building relationships in a virtual environment?"
There's always been a major gap in understanding how work really gets done at an organization. Org charts / org designs are hypothetical in nature and don't give you the ground reality on how people are actually collaborating.

With a strong focus on Relational Analytics, Panalyt offers a lens into how work really gets done at organizations by mining behavioural insights from internal and external employee communication and collaboration metadata, and then correlating these behaviours with desired outcomes such as increased productivity, innovation, engagement, wellness and reduced attrition, to enable our clients to nudge their employees to adopt desired behaviours to help them succeed in their roles.
Learn more about how Relational Analytics can help your organization : Navigating the New Normal with Relational Analytics


---

Are you interested in learning more about how you can bridge your people data gap and drive improved employee and business outcomes with Panalyt?

Contact us at this link, and a member of our sales team will get in touch with you within 1-2 business days!


---
The GARTNER COOL VENDOR badge is a trademark and service mark of Gartner, Inc. and/or its affiliates and is used herein with permission. All rights reserved. Gartner does not endorse any vendor, product or service depicted in its research publications and does not advise technology users to select only those vendors with the highest ratings or other designation. Gartner research publications consist of the opinions of Gartner's Research & Advisory organization and should not be construed as statements of fact. Gartner disclaims all warranties, expressed or implied, with respect to this research, including any warranties of merchantability or fitness for a particular purpose.